Listings are up in the four months ended 2019 as compared to 2018: an increase of 4.1%. The softening market has made sellers realize this is a good time to sell if they are wanting to sell near the top of the market. Still, however, we have a contracting market. Pending sales year-to-date in 2019 are 9,856 compared to 10,270 in 2018, a reduction of 4.0%. Closed sales show a similar decline in that there were 7,830 closed sales year-to-date in 2019 compared to 8,569 in 2018, a decline of 8.6%.
Comparing 2019 to 2018 through April, the average sale price has increased 0.3% from $444,600 to $445,900. During that same time, the median sale price has increased by 1.2% from $395,000 to $399.600.

This graph of the 12 Month Rolling Average Sale Price and Median Sale Price tells the story very well of what has been happening in the Portland area real estate market.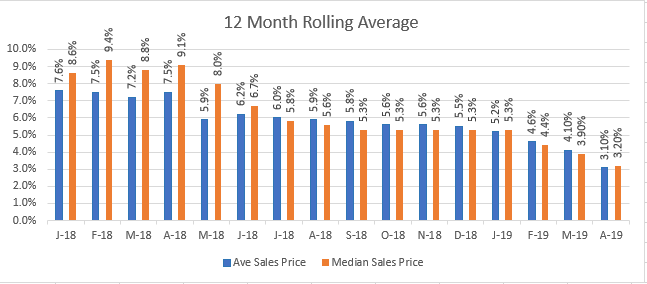 Home prices have slowed across the country but West Coast markets have seen a more dramatic slowdown. According to Zillow, home values in Southern California, the Bay Area, and Seattle all turned negative before Portland.
The decline in home values appears to be lingering volatility from the housing bubble and the subsequent bust and rapid rebound which pushed prices out of reach for some buyers. Eventually, prices grew higher than the average home buyer can afford. Portland home prices are now 35% higher than they were at the peak of the bubble. With this affordability issue and demand being unable to keep pace, buyers became 'fatigued' and starting last summer would just not pay the inflated prices sellers were asking.
The adjustment in prices isn't being felt evenly across the Portland area. Prices continue to rise at the low end of the market – In more affordable neighborhoods and for smaller homes that are affordable to first-time homebuyers – while the high end of the market has seen the biggest slowdowns.
The good news for sellers: We're still near the top of the market – a great time to sell if you are a Seller. For a Buyer, interest rates are currently in the high 3 – low 4% range, so this helps keep the payments lower. From all I read, economists are not expecting a major recession such as what was experienced in the 2008-2013 timeframe, more just a market correction . . . however, prices just could not continue to increase at the same rate they had been!
If you are wondering what all of this means to the value of your own home, I'm a real person doing real analysis – not an online valuation system using generalities – and it would be my pleasure to come out to your home, do a walkthrough, and provide a solid estimate of the range of market value for your home in today's market. My goal is always to provide the best information so you can make great real estate related decisions for yourself. Call me today!
Information gathered from RMLS